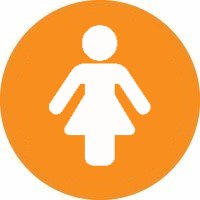 All hygiene services such as sanitary waste disposal and nappy waste disposal carry Waste Transfer Note / Duty of Care documentation to conform to duty of care for an audit trail of Waste Disposal. Our hygiene service personnel are all trained and are DBS checked for the service of sensitive sites such as women's refuges and nurseries.
We provide discreet, hygienic and convenient options to enable any workspace to dispose of their sanitary waste. Our units are slim-line and can be placed easily on either side of your toilet. They are available in a variety of colours and come in two sizes, Standard 23litre and Mini 15litre, to meet the needs of businesses.
Each unit is are serviced 4 weekly as standard but other visit frequencies can be negotiated should you have the need.
On each visit the sanitary disposal units are sanitised, the liner removed and replaced then charged with a germicidal chemical that has an antibacterial action killing germs, thus neutralising bad odours at source. The liner is then taken away from your premises and is disposed. You therefore retain the same sanitary bins prevent any possibility of cross contamination between sites.
Vending machines
Coastline can provide a variety of vending machines, filled with familiar brands to cater to every day needs. By installing one of our machines, the users of your wash room facility never need to worry about forgetting those essentials.
They are available in single and dual column or multi-vend, in stainless steel, chrome and white. The units can be serviced as regularly as needed, from weekly up to four weekly, according to its use.
Nappy Bins
Coastline can provide nappy disposal units which have a large lid, specifically for easy nappy disposal which contain a tea tree lining to help to eliminate any odours. The units can be serviced as regularly as needed, from weekly up to four weekly, according to its use.
Call now for a free quote, contact us, or email us at sales@coastlinecleaning.co.uk.